Top 5 Skiing Destinations in Europe
Posted in
Holidays
on February 20th, 2017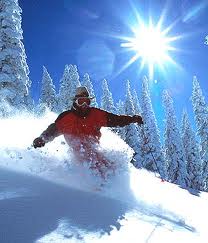 Skiing holidays and snow boarding trips are hugely popular and with a strong selection of skiing resorts to choose from, there should be an option for every budget and requirement. This guide looks at 5 of the best skiing destinations in Europe.
La Plagne
La Plagne has a sterling reputation for winter sports and the ski area provides close to 230km worth of ski runs. This is a destination that caters to skiers of all levels and if you are looking for an area with great sporting history, there are more than 50 years of sporting excellent and activity in the area.
When it comes to the excitement of bobsleigh, La Plagne is one of the best resorts in Europe, with the area being regarded as the best option for this activity in the whole of France.
Serre Chevalier
There are a number of reasons why Serre Chevalier should be considered one of the leading skiing destinations in the whole of Europe. You will find that the large and imposing mountain provides you with a strong sense of adventure when you ski down it. If you're looking for a destination that feels as though you've travelled and less of a constructed resort, this is a perfect choice.
The style of Serre Chevalier is an old fashioned and traditional one, the sort of destination that people dream of when they consider skiing destinations. This is a friendly area with a selection of value for money hotels and plenty of atmospheric hotels, chalets and restaurants. Le Hameau de Rocher Blanc is as good a destination as any for people looking to enjoy a skiing break in this area.
Alpe d'Huez
Alpe d'Huez has long been considered as one of the leading resorts in Europe and if you want a destination with a sense of history, the village has been welcoming guests since 1936. While there are a number of runs available in the ski area, many people are happy to gaze upon, and down from, Pic Blanc, which stretches to 3,300 metres, at its tallest. The views on offer are stunning and the skiing activity manages to match the stunning backdrop.
The resort is regarded as a world class skiing destination with a strong range of indoor and outdoor activities on offer. With the chance to engage in many snow sports, this is a destination that is more than just a skiing resort.
Valloire
Located at the foot of the world renowned Col du Galibier and Col du Télégraphe, Valloire is a ski resort of stunning character and variety of runs and opportunities. The diversity of the area provides opportunities not just for skiers but for freestylers at all levels. Beginners and novices are well catered for in the area, with highly regarded training on offer. With intermediate and expert zones on offer, this is a resort that can play host to a travel party with a wide range of skills and experience.
Valloire is also a great option for people more interested in the social aspect of a skiing holiday. Whether someone is looking for bars, restaurants, steam rooms, ice rinks and some of the leading nightclubs in the area, this is a resort that gives people activities to enjoy around the clock. When it comes to staying in the area, Les Chalets du Galibier is an attractive location.
SkiWelt Wilder Kaiser – Brixental
While some ski resorts promote themselves on their tradition and style, there are some ski resorts that are proud of their modern facilities and customised offerings. With 21 downhill slopes and close to 290km of ski runs, this is a resort that welcomes skiers of all ages, experience and skill levels.
Even people who aren't that focused on skiing will enjoy the setting. The panoramic views on offer give access to more than 70 mountains and the area is also regarded for its night life. If you are focused on partying as you are on skiing, this should be a destination that meets your criteria.
There is no shortage of fantastic skiing destinations in Europe and these 5 resorts should provide everyone with something to think about or look out for.