Borneo Holidays & Tours
Wildlife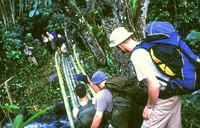 Borneo is an extremely beautiful wild and exotic Island, rich in biodiversity and wildlife!
The native Orang Utans are now heavily protected and our companies eco-tourism conservation policy and our Orang Utan Quest trip is fully supportive of all measures to conserve and protect this important species.
There are literally thousands of species of flowering plants and trees with an abundance of exotic mammals and resident birds to discover! The Proboscis Monkeys are a particularly interesting mammal species unique to Borneo, and they can often be seen during your visit.
Borneo is also the centre of evolution and radiation of many endemic species of plants and animals. The remaining Borneo Rainforest is the only truly natural habitat for the endangered Orangutan.
Literally Hundreds of Turtles can be found nestled around the coastline of Borneo and the unique Whale Shark (the worlds largest fish) is a constant visitor to the islands waters.
Jungle trekking and remote mountain treks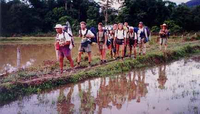 Want to walk along padi fields or trek through the jungle in search of wild flora and fauna and amazing wildlife?
Trekking amongst Borneo's incredibly varied terrain, outstanding plant life, and remarkable wildlife, will undoubtedly prove to be an experience of a lifetime.
We have many ready made trekking itineraries for you to choose from, or you may wish to contact us and discuss your very own specific requirements, enabling you to specify a trek appropriate to your pace and interests! Or why not let us plan you a part trek and part beach itinerary!
Your trek in this most amazing of environments, will be safely led by one of our own experienced award winning local guides.
Diving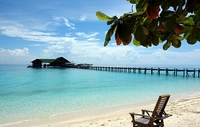 Borneo has some excellent diving facilities, we have three dive locations including the famous Sipadan; undoubtedly amongst the top 3 diving sites in the world!
Sipadan
Sipadan-Kapalai Dive Resort on Kampala Island
Lankayan Island Dive Resort
Cycling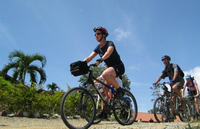 We probably own more mountain bikes than any other tour operator in Borneo! The main reason for this is that we have handled some big groups, of both off-road mountain bikers and more gentle cyclists who prefer to wander through country lanes.
Again the details here are just part of what we do regarding travel on two wheels. All our cycling expeditions are escorted and have support vehicles appropriate to the number of participants.
We have had blind and partially sighted cyclists travel with us and welcome physically challenged clients.
We have bike tours to suit all levels and expertise – from an 8 hour vehicle supported single day excursion to a full 6 day biking expedition.
Please contact us if you require a specific Mountain Bike Itinery or you wish to discuss group rates.
All Tours and Itineries are extensive and all can be tailor made and customised to meet your specific requirements and interests. Please contact us if you are interested in a holiday or tour in Borneo.
01924 283803