Weekend in Paris

Paris is one of the most romantic cities in the world and is also known as the City of Lights. An extended weekend break in Paris has so much to offer; relax in one of Paris' many parks, shop in some wonderfully chic boutiques, and visit some of the well-known landmarks.
City breaks in Paris tend to bring to mind notions of romance… moonlit walks by the Seine, amorous couples sat on the steps of the Sacre Coeur, the stunning views from the Eiffel Tower… all of which is true but a Paris city break has this and much more to offer.
Plan your city break to Paris to ascend the Eiffel Tower, stroll along the Seine, and shop along the Champs-Elysees. The French capital is celebrated as the 'City of Love', and is renowned for its world-class cultural offerings and historical attractions. Whether you're planning a romantic getaway or going to take in the sights, Paris city breaks are the perfect option. We offer cheap short breaks to Paris through a variety of travel options.
As part of your weekend in Paris you can visit some of the most famous landmarks such as the Arc de Triomphe, the Louvre and Notre Dame. Spend time at the magical Disneyland® Paris, or sit back in a pavement cafe and watch this vibrant city at work around you.

One of our most popular tours is the 4 day weekend in Paris although we do have many other durations, and of course many other cities breaks that we can offer.
The itinerary for the four day weekend break in Paris is as follows:
Day 1 – Paris. Journey to your hotel in the Greater Paris area.
Day 2 – Paris. Included coach transfer into the centre of Paris. Optional daytime city tour and boat cruise. Return transfer to your hotel during the evening.
Day 3 – Paris or Disneyland Paris. Included coach transfer into the centre of Paris or optional full day visit to Disneyland Paris. Included evening return coach transfer back to your hotel.
Day 4 – Paris. Depart after breakfast. En-route to the port, time permitting we visit a French hypermarket or wine/beer warehouse.
What's Included:
Return coach transfers into Paris as specifed
Three nights accommodation with continental breakfast
Return executive coach travel.
Return channel crossing by Ferry/Eurotunnel®
Free local pick-up points
We have a wide range of departure dates and price start from £189 per adult and £139 per child.
Disneyland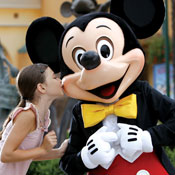 In a Magical Kingdom not so far away – somewhere between a place where you wish upon a star and dreams come true – classic Disney heroes and heroines live upon a dream in fairytales that are, happily, never ending.
To take advantage of this offer call now on 01924 283 803 or use our enquiry form.