Maldives Cruising
The ultimate way to see the Maldives!
Yasawa Princess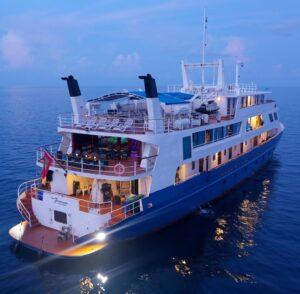 The Yasawa Princess has 33 Amazing cabins and can carry up to 60 people. You can experience this wonderful, All inclusive cruise for 7 or 14 nights.
The Yasawa Princess has 3 decks, Lower Main Deck, A Deck & Bridge Deck.
The Atoll Explorer that used to operate in the same area, has now ceased operations. Many guests from The Atoll Explorer have now moved to the Yasawa Princess and have been made most welcome.
Contact us on 01924 283 803 or by email at info@rtctraveluk.com for more information on cabin prices and flight inclusive packages.
Follow the link for more information and pricing: Yasawa Princess Cruise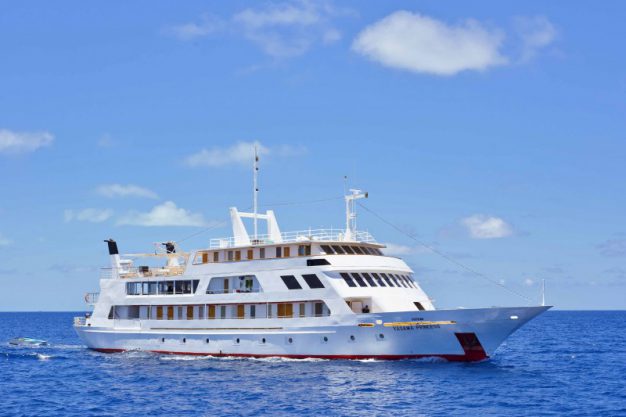 Yasawa Princess
All Inclusive Cruise
THE BEST WAY TO SEE THE MALDIVES.
Call us for more information and to book your cruise today on 01924 283 803
Excellent Accommodation and Dining Facilities
All cabins are non-smoking and air-conditioned, in all three decks.
They are all compact with double beds, or two singles, with wooden accented furniture, en suite shower/WC/wet area, hairdryer, safe and 240V power outlet.
Food is served in the cosy informal dining area offering delicious, buffet style meals. Maldivian Dishes are available on request.
The bar serves an extensive list of drinks to choose from, with premium imported brands available at a small supplement for all inclusive passengers
Built: 1984 (refurbished in 2007)
Length: 54.90 Meters
Width: 11 Meters
Cruising Speed: 10-12 Knots
No. of Cabins: 33 Cabins
Passenger Capacity: 60 Max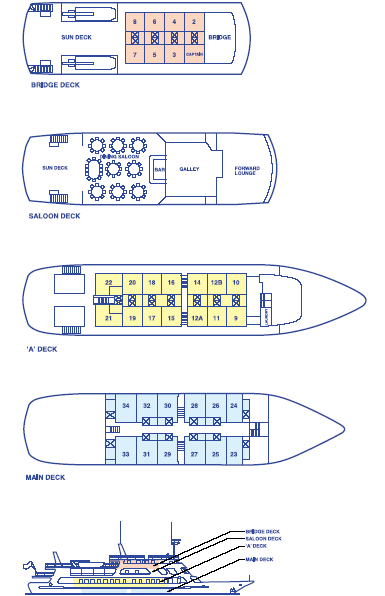 See our facebook page for more details & cruising itinerary.
Cruising Calender:
Useful Links
http://www.broffice.gov.mv/en/

http://www.unesco.org/new/en/natural-sciences/environment/ecological-sciences/biosphere-reserves/asia-and-the-pacific/maldives/baa-atoll/

Ring 01924 283 803 for more information or email info@rtctraveluk.com
Customer Comments and Feedback:
Dear Anji & Gordon
We had a great time. All transfers connected easily. Loved the fortnight on Yasawa … Very convivial and sensational dive sites. Thanks for recommending Embudu village. It was lovely for a tranquil wind down and fabulous reef for snorkeling and close transfer from Male as advised.  Yasawa guest relations, Fayeez, managed to arrange morning transfer so we had full first day at resort.
All staff and crew were exceptionally helpful both ends … Nothing was too much trouble. Lovely honeymoon treats too. Impressed to get Veuve Cliquot champagne compliments of Yasawa. Basket of fruit/prosecco at Embudu. too. Room attendant also decorated bed on last night. Water villa lovely.  Only recommendation given was brighter light needed in room … Easier for packing at night.
Diving really safely organised at both.
Thank you for organising the trip. You were great to deal with and kept us well informed. An amazing and memorable honeymoon
Tina & Drew
---
Hello Gordon
A very good holiday indeed.
Yasawa has really been looked after with the new paint looks really good. Cabins have been improved too.
I was happy to have same captain as 5 years ago and the chef is the same as 3 years ago …. excellent food.
We had a slight problem with an engine but we managed to complete itinerary.
Many thanks also for the very good seats on the flights
Best regards
Giorgio (November 2016)
---
Absolutely fab … I didn't want to leave the whole experience was wonderful from the fabulous staff to Vee Jays wonderful food … The beautiful islands we visited and the Sharks we chased !
I will be back !!!! Lorraine Moon xx (January 2016)
---
"Just to let you know that we had a great time on the Yasawa Princess. Thanks for the help."
Alan and Libby (January 2014)
---
"We had a very enjoyable and relaxing holiday in the Maldives. Everything went like clockwork – from the flights to the transfers to & from the Yasawa Princess and Biyadhoo.

The weather was lovely and we met a great bunch of people on the YP – only 20 of us – which was a good number, and everyone got on well. All the staff on the YP were fantastic and couldn't do enough for you. The food was delicious and plentiful, and Chris's 60th birthday went perfectly. The crew decorated our table and cabin, and the chocolate birthday cake the chef made was wonderful (and was quickly devoured).

The ship's manager very kindly arranged for us to move from the lower deck to the mid-deck which was greatly appreciated (unfortunately the cabins in the lower deck – main deck – made us feel a bit quesy due to the roll of the ship). He also led daily snorkling trips around the reefs on every island we visited.
We've got very happy memories of our trip and we'd love to return to the YP sometime, hopefully in the not too distant future – maybe on the two week cruise.

Thanks very much for arranging everything – we've already mentioned your company to other guests on the trip, and won't hesitate to recommend you to our family & friends."

Dave & Chris (January 2014)
---
"We had two enjoyable weeks on Yasawa Princess. The food was superb but the itinerary was not always as advertised. We decided to extend our holiday and stay for an extra week as the advertised Southern Cruise looked interesting."

Alan (January 2014)
---
"We came home a week ago from a very enjoyable holiday and feel we must write to say how much we appreciated your help in setting up the arrangements. Despite our various changes and alterations, all was handled perfectly.

We also want you to pass-on our thanks to the Yasawa people who were truly impressive. Their hard work, efficient organisation and friendliness made the week so enjoyable.
Our return to Malé airport at the end of our week was a prime example… not only were we taken personally to our internal flight at Mamaaghili but met at Malé airport, taken by ferry and taxi to our overnight hotel and then – there was Jinas (from the office) at the hotel door at 6.30 am to take us back to the airport.

A wonderful holiday which we shall probably repeat! Thank you"

Roger & Sheelagh (February 2014)