Popular Holiday Destinations for Disabled People
Posted in
Holidays
on February 20th, 2017
Finding the ideal holiday destination can be a challenge at the best of times but for people living with disability, it can be even more difficult. There are many different ways people's lives are impacted upon by conditions and illnesses, which mean that there is a need for individuals to select resorts based on what support and assistance they require.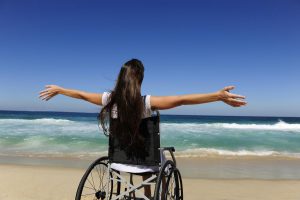 When it comes to popular holiday destinations for disabled people, most of the focus falls on accessibility. This means that the hotel or accommodation must be suitable for people in wheelchairs or who need assistance in walking, and the resort and local area should have amenities and facilities that are suitable for people of all capabilities. There have been great improvements with respect to holiday destinations which are suitable for disabled people and there are a number of European destinations which are very welcoming.
Spain
Spain is one of the leading holiday destinations in the continent with the climate, the pace of life, scenery and stunning coastlines being very attractive for people looking to enjoy a holiday. Tourist culture is very important to the Spanish economy and this has been a factor in hotels and resorts ensuring that they offer a service that is friendly to disabled people.
Anyone looking to enjoy a European city break will find that a weekend in Paris or Barcelona have very good accommodation with respect to mobility access, and the city also offers beaches and promenades. With respect to disability-friendly coastal resorts, Benidorm and the Costa Blanca is regarded as an area that is suitable for a wide range of holiday makers.
Balearic Islands
The Mediterranean climate is an ideal reason to book a holiday on one of the Balearic Islands but there are many disability-friendly resorts across the leading islands. Majorca prides itself on offering wheelchair friendly access to beaches with resorts like Cala Bona and Cala Millor having wide promenades with plenty of space for turning.
Given the importance of the tourist market for these islands, it is no surprise to see the main resorts have an abundance of accessible hotels and major attractions. Some of the leading tourist attractions of Majorca such as Marineland or the Pirates Experience in Magaluf are well-known for ensuring that everyone can enjoy the show.
Canary Islands
While many tourist destinations have only been providing access friendly services in recent times, Los Cristianos in Tenerife has a long standing reputation for being an accessible resort. There was a report created in the 1950s by a Swedish tourist, highlighting the benefits of the resort's climate and accessibility and ever since then, the resort has been regarded as a resort that is suitable for people who require additional assistance and support.
The beachfront utilises boards in the sand, there are suitable changing facilities on hand and there are ramps to and from the seafront.
Portugal
While there are a number of tourist destinations to consider in Europe, the Algarve is well regarded with respect to its accessibility for a wide range of travellers and tourists. There has been a lot of work undertaken in recent times, and although there are a number of high kerbs in this part of Portugal, work is on-going on making the area safer and easier to negotiate.
There are also a number of theme parks and sporting centres which provide a wide range of activities and entertainment options for wheelchair users and people of restricted mobility.
France
No matter where you look in France, there is a growing selection of resorts and attractions that offer suitable access facilities for people who need further support.
France is also regarded as the European leader in offering ski resorts that are suitable for people with restricted mobility. With a high volume of ski schools trained in the use of handiski equipment, this is an option for wheelchair users and people of restricted mobility who still want to lead a sporty and active lifestyle.
Disabled people have never had a wider range of destinations to choose from when looking for a suitable holiday location.