Let's get social's destination of the week
Posted in
Recommendations
on December 19th, 2018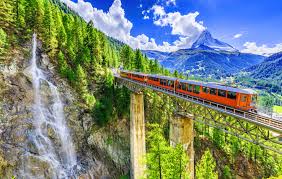 Let's get social's destination of the week is Switzerland!
Beyond the piquant chocolates, the sprawling meadows, alpine forests and the Alps rests a land or rather a utopian place of sorts that is home to poetically arranged sculpted houses, shimmering lakes, cuckoo clocks,  an enchanting railway network and benevolent people. One step outside from the airport and all your mind will be able to think about is simply how beautiful can a place get.Classy, contemporary and yet rooted to history and legacy, how can there be a place so picture perfect in this world? 
Just when you think you've seen enough for the day, you will pass through innumerable canals and the reminiscing countryside that will restore faith in good things and life and wonder if God was at his creative best when he was coming up with this place. Glacial mountains, vineyards, glittering lakes, uber cool restaurants and eateries, some old-school countryside cycling and classic European architecture, Switzerland is the place that will leave an impact in your mind forever. It is the ultimate destination which will make you feel you've seen it all and whatever you see further are simply complimentary. If you are a wandering soul, Switzerland is where your salvation is. No matter how hard you try, there are no words in the language of the humans that can perfectly describe how it feels to be in Switzerland and soaking in the experiences it has to offer. You will have to be there, see them through your eyes, sense it and reaffirm the fact there isn't actually a word to tell people how it feels to be there.
Welcome to a piece of art that is open to interpretations, art that will speak for itself and art that cannot be brought or taken home. It is just right there for us to see, feel and experience. Welcome to Switzerland – where life is good!