Mykonos
Posted in
Recommendations
on November 28th, 2018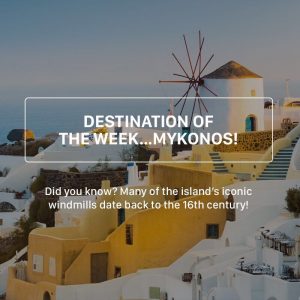 Mykonos is a whitewashed paradise n the heart of the Cyclades. According to Greek Mythology, Mykonos was formed from the bodies of petrified giants killed by Hercules. TheIsland also takes its name from the grandson of apollo, 'Mykonos'.
Set out on a journey to discover a place where glamour meets simplicity. On Mykonos celebrities, students and families come together to celebrate the Greek summer. Whether you are an entertainment junkie in search of a good time or a visitor who wants to explore the island's history and culture, Mykonos will certainly meet your expectations.
The island is a hub for water sports. Nicknamed the 'island of the winds', Mykonos offers a range of water sports such as surfing, windsurfing and sailing. However if this isn't your taste do not worry as Mykonos has a huge range of other activities. Explore the islands capital town by taking a walk along the lively waterfront, or make your way into 'Little Venice' a historical area that was once full of grand Captains and their mansions. There are also a range of museums to visit when there such as the folklore and maritime museums. Or for a more relaxing day enjoy the beautiful surroundings of the island on one of the many pristine beaches.
If you are interested in booking a holiday to this wonderful place then please do not hesitate to contact us!