Ideas for an Original Wedding Abroad
Posted in
Weddings
on June 22nd, 2016
Say 'I d-d-d-do' in Ice-covered Lapland
When Billy Idol sung (It's a nice day for a) 'White Wedding', perhaps he had a Scandinavian escape in mind! Why not go for it and plan your own special day in the land of Father Christmas, Lapland? If the idea of turning up to your wedding location in an open reindeer sleigh, orchestrated by a Sami Reindeer Herder, followed by your special night spent in Sweden's original Ice Hotel appeals to the adventurous spirit in you, why not take the plunge?! It will surely be a wedding to remember for all concerned.
Go Medieval in a Castle Wedding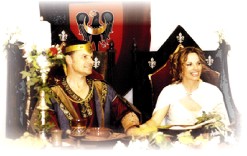 Having attended a medieval wedding, in which the bride and groom opted for the delightful tradition of hand fasting, in which their hands are bonded by a cord, I can attest to the magic of such an ancient ceremony. There is surely no better setting for such a wedding than a castle. Whether you choose England, Scotland or one of Germany's fairy-tale Bavarian castles, there are so many beautiful options that will all make for a delightful day. Make sure you get the music right. There are some great lute piece out there, but you could certainly add a modern twist by having a band adapt some of the fabulous pieces penned by Ramin Djawadi for Game Of Thrones.
Fancy Being a Cruise Ship Bride?
There is an undeniable romance attached to the idea of giving your wedding vows at sea, as the salty spray refreshes the senses. The irony of the sense of detachment from the world as you become attached for ever, to the one you love. This dream can be made reality if you choose from the myriad cruise wedding options available. You can even decide to have the captain of the ship perform the ceremony! You might imagine that the cost of a cruise wedding could be prohibitive, but on average cruise weddings are around a third of the cost of a land-based wedding!
A Taste of the Exotic
One great idea for a wedding is to bring everyone to where you're going to be honeymooning, or at least close by! Just make sure you kick them all out so that you can honeymoon in peace and tranquility! In terms of exotic wedding locations, none can compete with the likes of Borneo, Mauritius or Sri Lanka. Malaysian Borneo truly is one of the world's great treasures, offering some unparalleled wildlife excursions as well as the opportunity to enrich your ceremony with some native Sabahan traditions. This can involve both bride and groom being made up by people known as 'mak andam.' Such treatments include a bath with added powdered ingredients like rice, flour and mixed flowers on the night before the wedding. There are also some lovely traditions involving dress code, with the bride wearing yellow and green silk dress and a special crown. The groom traditionally wears yellow and the aftermath of the ceremony involves plenty of dancing!