Dinghy Sailing Holidays Abroad and in the UK
Posted in
Holidays
on June 28th, 2016
Whether you choose to base your dinghy sailing holiday in the UK or venture farther afield to the likes of France, Greece or Spain, dinghy sailing holidays really do really do have something for all the family and despite being centred on this activity there are always plenty of other activities to get your teeth into such as windsurfing, fishing or kayaking and for the landlubbers – mountain biking or tennis. For those tagging along but feeling less inclined to getting a sweat on or the adrenaline pumping, there are always swimming pools to lounge around reading a good book, resorts offer spas with massages and various relaxation treatments and of course there's always the option of a few cocktails at the bar!
The foreign option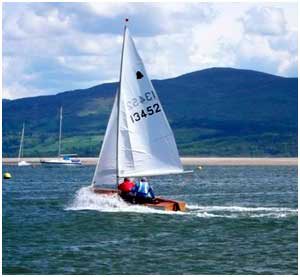 Okay, so perhaps you don't really need much persuasion, but here goes. What could be better than to forget about that ill-fitting, chafing wetsuit and those cumbersome thermoses of hot tea needed to bring you round from fits of shivering and stop those teeth from chattering after every session? If you head off to the Mediterranean, you'll more or less guarantee warm water, more predictable weather (and especially winds) and still be able to find Royal Yachting Association courses for those wishing to learn.
For the more experienced sailors it certainly pays to research the places on your list before committing. There is little worse than arriving at a resort for a paid up week or two only to be confronted with basic, tatty equipment or gear set up for teaching beginners and winds that would scarcely pick up a paper bag. Some great options for more experienced sailors in the Mediterranean are: Kefalos; Phokaia; Lemnos and Lesvos.
For those already experienced in dinghy sailing, Cannes in France offers many great possibilities of hiring your own vessel and doing your own thing, while also offering exceptional fine dining.
The UK option
Not everyone wants to have to experience the hassle of flying, going through moody airport security checks, not to mention have the expense of it all. Let's not forget that the UK has plenty of options on our doorstep to make for a memorable dinghy sailing experience.
It also pays to remember that not all dinghy sailing holidays require a coastline. The Lake District is a fabulous option. Imagine setting off on Lake Windermere, once home of William Wordsworth and Beatrix Potter, with dreams of encountering the likes of Mr Jeremy Fisher or Jemima Puddleduck! Joking aside, the Lake District is a great place for those looking for an entry into dinghy sailing as there are many courses and being a lake environment it is a safe haven for beginners.
For the more advanced, perhaps you should look no further than towards the Southwest corner of England and Falmouth, Cornwall, where there are some truly excellent winds, fine weather and a plethora of brilliant courses as well as plenty to occupy those not inclined to get out on the water.