Classic Car Experience
Posted in
Holidays
on January 10th, 2017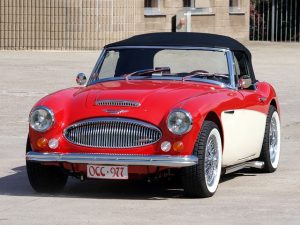 While it is not possible to travel back in time and enjoy a driving holiday across Europe in the way
that people used to, the classic car experience does provide the ideal opportunity to recreate these
golden trips. With a vintage car suitable for two people, and with insurance and petrol included, this
break is a fantastic way to enjoy a vintage holiday while enjoying the best of classic and modern
style, elegance and comfort.
The mountain area of the Savoie region is a massive draw for many people and this is an area that
provides plenty of chances to stop off and sight-see. However, these are iconic roads and routes and
for many travelers, the thrill will come in traversing these well-followed roads and soaking in the
culture and history from these regions.
This style of holiday allows you to break up your day, taking in views and stopping to enjoy the best
in food, drink and local culture. Depending on personal preference, there is a chance to tailor the
time spent in certain destinations, so there is a degree of flexibility, but most travelers will look to
enjoy as much as they can on this classic car experience.
The first day provides a gentle introduction to the break
The first day of the tour sets off from the Challes les Eaux region and will cover around 30km. This
allows for a sedate and relaxed start to the expedition, providing the opportunity to enjoy lunch
before setting off. Savoie is a well-known spa town, so if you are looking to feel refreshed and
invigorated before setting off on your journey, there are few better starting destinations to call on.
The next day is the first full day of driving and the experience covers close to 120km. This is much
longer than day one but it is hardly a massive haul, which means that there will be many
opportunities to take in the local countryside.
Enjoy the local area and culture
With natural parks offering over 1,600 types of plant, and many local creatures and animals, people
that love to connect with nature will find every incentive to pull in, stretch their legs and take in
what the local area has to offer. There is a strong motivation to keep travelling though with Mont
Revard towering over the area, and the trip. The high peak of 1560 metres overlooks Lac du Bourget
and you'll find that this is the ideal destination to stop and take it all in. Whether your focus is on
capturing videos and images to share with the world or you just want to create memories for
yourself, this is a fantastic destination that will be well worth the drive.
Day three begins the drive back to Challes les Eaux but taking in the Chartreuse regional park, which
offers a great way to round off the trip. While the driving element itself is hugely important, the real
pleasure of the tour comes with the dining options, the accommodation and the tours on offer.
Travellers can expect to enjoy a private tour during their journey and visits to cheese farms and a
wine tasting session in a cellar of a chateau. Add in a private concert and fantastic lunch and dinner
options, this is a holiday that will appeal to all senses while ensuring people get to enjoy the very
best of local cuisine and culture.