5 Essential Tips for the Perfect Travel Wardrobe
Posted in
Holidays
on September 3rd, 2016
Rock those kaftans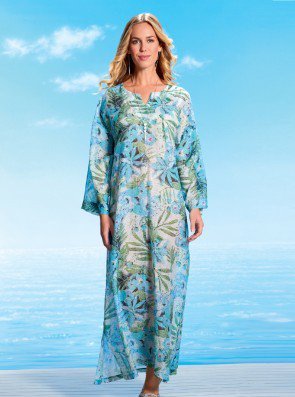 Vintage chic is still very much in and that most certainly applies to that wonderful child of the '70s the comfy kaftan. You only need to look for historical pictures of seminal female style icons like Anjelica Huston and Bianca Jagger to see just what this simple garment is capable of. What you can get is effortless style and exotic sensuality personified. The kaftan really is an era defining article of clothing and one that is not only making a strong comeback but is perfect for the discerning travel wardrobe. Kaftans are perfectly suited to beachwear, but also for lounging in a hammock as the sun goes down and you need that little bit more fabric to keep you from retreating indoors. There are a myriad of colourful, seductive designs on the market that will prove invaluable and highly adaptive additions to your travel wardrobe.
Treasure that tankini
For our second sensational travel item step forward the versatile tankini. If you're feeling shy or never felt confident in a bikini, or maybe the weather is not quite as perfect as you'd expected then the tankini is ideal for those days on the beach or around the pool. What you get with a tankini is a traditional tank top paired with more typical bikini bottoms. You may fancy a more adventurous take on the idea and you can find it in the form of a tankini with a cut-out tummy area. If you've got it, flaunt it and bronze that stomach while you're at it. The tankini also provides another outfit possibility as a nice pair of cut-off denim shorts with the colourful tank top can be a killer switcheroo!
Carry that crew neck cardigan
No travel wardrobe is complete without a crafty cardy. Perfect for slipping on to prevent those airplane chills, the cardigan is one piece of luxury cotton knitwear that should grace hand luggage bags the world over, no questions asked. Why the crew neck? Well, the crew neck is a timeless classic that is not only easily paired with comfortable trousers – making it great for travel – but it is also more than capable of adding a nice finishing touch to evening wear, should there be a little chill in the air.
Baggy comfy floral harem pants
Hippy chic, yoga wear, Aladdin revivalism! Call it what you like, there is no substitute for that breezy, roomy pair of harem pants that are just perfect for travel to warmer climes. Lightweight, breathable and utterly perfect not only for the beach but for flights, evenings and perhaps some adventurous train journeys. Perfect synergy between style and comfort that nobody can afford to ignore. Add to that the fact that there is an abundance of choice at very affordable prices then our advice is to grab two pairs that complement a variety of tops.
You can always find room for those flats
There can't be many more versatile pairs of shoes than those good old ballet flats. Immensely comfortable and easy to find in all manner of colours and patterns, the perfect pair for your travel wardrobe is definitely out there and they're not going to break the bank! Occupying very little space in your case as the name suggests, ballet flats are great for slipping on and off while travelling, wonderful substitutes for uncomfortable flip flops on days out that involve a touch more walking than is comfy with a thong between your toes and what's more they look grand with your kaftans and harem pants!