Valentine gift offers
RTC Travel Offers
Splendours of Paris
Offer uploaded on February 5th, 2019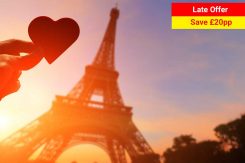 Whats' Included:
Splendours of Paris – 4-5 days.
Rediscover your 'joie de vivre', and join us on a holiday to the city of love, as we take you on a short break to the French capital of Paris.
See the city's most celebrated sights from the marvel that is the Eiffel tower, to the Arc de Triomphe and the stylish Champs Élysées, as you saunter the Parisian streets, or join us for a guided tour by coach. Take a cruise on the River Seine and see the sights from the waterways, sit back and relax as we sail under the bridges for which Paris is justly proud. Why not experience the Parisian atmosphere in the evening and join us on a visit to the Latin Quarter or for a traditional Parisian meal in a typically French restaurant. With the opportunity to also visit Versailles, home to the famous château and its glamorous gardens, you'll see the very best on this fabulous city break.