Weddings in Cyprus & Turkey
Cyprus
Your Cyprus wedding is a dream come true!
Cyprus has over 300  days of sunshine a year making it a very popular destination in Europe, especially  for anyone wanting  a wedding ceremony with sunshine and beaches.


Weddings in Cyprus have become very popular, as it has great weather, but dosnt require a 'long haul' flight. Many couples choose Cyprus for their wedding location due to the benefits offered by this beautiful island.
In Cyprus it is easy to get married, with   few formalities to be taken care of. Normally a stay of 3-5 days is required. Also, the couple need to provide certified copies of their passports, birth certificates & proof of marital status, translated into English.
RTC Travel can help you make your wedding the best day of your life, by assisting with  as much organisation as you require. We can provide a full package, or arrange  flights/accommodation.
Bear in mind that Cyprus offers a range of  locations for your wedding, from a beautiful beach hotel, to ancient churches & town halls. Fantastic picturesque views of the ocean & gardens full of lush vegetation.
Limassol is Cyprus's second largest city & is great for its nightlife. Some of the finest shops are found there. Plus a host of sightseeing opportunities & a popular place for weddings. Cyprus spoils you with its charm.
Paphos is in the west of the island, and is now the centre of the growing tourism industry, whilst still retaining its old charm.
Ayia Napa is situated on the east coast and is very popular during the summer. The 'square' in Ayia Napa is well known for its night life, and has several beautiful beaches close by. Ayia Napa town hall is ideal for a civil ceremony for your Cyprus Wedding.
North Cyprus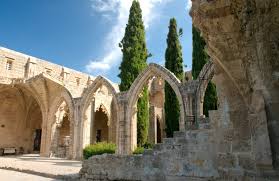 Weddings in Northern Cyprus can be arranged at a number of location from luxury beach hotels & beach front locations. Our favourite venue is the romantic ruins of Bellapais Abbey(picture above).
Prices start at £1,199 per couple for the gold package.
Wedding Package:
Gold package covers the main components for a wedding.
Services of a bilingual wedding co-ordinator
Administration & registar fees
Wedding ceremony with government official at the Kybele restaurant overlooking Bellapais Abbey
Marriage Certificate
Decorated archway, CD music throughout the ceremony
Wedding cake
The use of Bellapais Abbey for wedding photographs.
Other extras that can be arranged for your special day…
Hairdressing, Music, Photography, Brides Bouquet & other flowers
Decorations for guests tables & chairs
Wedding meal
Turkey


Hotel Meri – Oludeniz is perfect for weddings, it provides a great location for the ultimate beach wedding & honeymoon set in a unique spot right on Turkey's most famous beach.
Hotel Meri offers all-inclusive basis with 74 standard rooms & 20 family rooms. Facilities included private beach, swimming pool, children's pool, restaurant, children's playground, table tennis, sauna, pool table, evening entertainment once a week & a gym.
Transfer is around 1hour 15mins from Dalaman Airport.
There are a lot of choices, so why not contact us at RTC Travel & let us help you choose the ideal location for your wedding ceremony along with a great hotel. We can  assist by  managing all your plans or just help with flights/accommodation. Our job is to make this the best day of your life!
The D – Hotel Maris perfect for weddings (Turkey)
D – Maris is Located high up on the hillside of the magnificent reserve of the Datça Peninsula, where the Aegean and Mediterranean Seas meet, you will find an exclusive resort that exceeds all expectations, with spectacular and breathtaking views, smallislands, luscious pine forests, volcanic mountain ranges, crystal clear waters and five stunning natural privatebeaches. Total territory is 156.000 m2. Beach lifts are available from the hotel to the main beach, The Bay.
D-Hotel Maris is 130 km away from Dalaman International airport, 155 km from Bodrum International airport, 35 km distance from city of Marmaris. The D-Hotel Maris offers transfers from Dalaman, Bodrum or Izmir round trip or one way transfers by comfortable VIP cars or private helicopter and sea plane. Helicopter and sea plane transfer from / to Dalamanor Bodrum airports takes only 25 minutes. All transfers should be booked in advance and are subject to availability.






Or D- Resort Gocek (Turkey)
D-Resort Göcek is located in the Mediterranean's hidden paradise. Only 20 minutes from Dalaman airport, Göcek hasfascinating mountain views, and it is known as a great getaway situated in a small village known by locals as yachtheaven. Göcek is an ideal destination for relaxation, sailing at the beautiful and tranquil bays.
D-Resort Göcek consists of eight accommodation buildings, centrally located in the village itself with outdoor pools,restaurants and bars, D-Spa and Fitness Center D-Gym. The resort offers a complimentary access to the only beach in Göcek.
D-Resort Göcek is 25 km from Dalaman International Airport, 175 km from Bodrum Airport, 124 km to Marmaris and 30km to the city center of Fethiye. One-way or round-trip transfers from Dalaman, Bodrum, Marmaris could be organized with luxury VIP vehicles. All transfers should be booked in advance upon reservation.






Phone us on 01924 283803 today for more information on Weddings in Cyprus and Turkey.