Snowboarding Holidays Abroad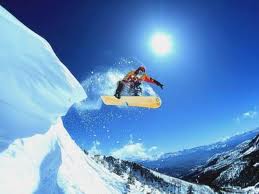 A snowboarding sports holiday abroad – Snowboarding, can be a wonderful experience. Visit some of the top destinations to snowboard for exampe, Breckenridge Colorado, Whistler Blackcomb Canada, Wanaka New Zealand, Les Arcs France, Chamonix France and Mayrhofen/ the Zillertal valley Austria.
Snowboarding holidays can give a feeling of  freedom  and exhilaration, putting life's stresses in perspective. You can enjoy the moment as you break through the soft powdered snow and rush through the air like a bird flying!
If you are a beginner on the slopes, there is a trainer and 'baby slopes' that you can start of on, leading to blue slopes and harder slopes to push snowboarders to extreme.
For more details of our wide range of 'sports holidays abroad', please contact us now on 01924 283803